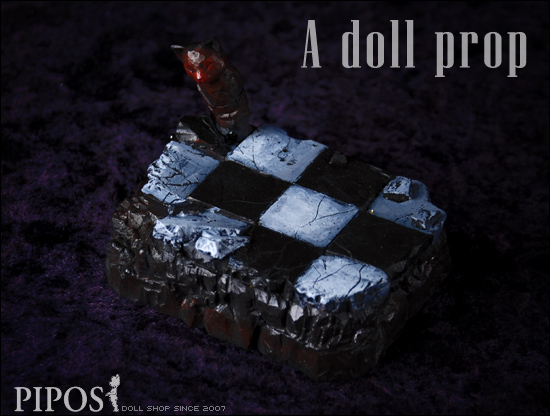 Product : Dark Alice Limited Edition (Half eyes head)

Type : PO11 Limited Edition

Including : Head(opened eyes or half opened eyes) & Body & A pair of human hand, feet (assembled)
Wig, Maryjane shoes(black color)
Make Up artist Johann
Moi atelier Limited Dress set
14mm IRIS Eyes (for opened eyes), 12mm (for half opened eyes)
Doll box, cushion, certificate card

Dark Alice body is different from previous PO11 body.

Skin color : Off-White

Option : Head (A. Opened eyes or B. Half opened eyes)

Quantity : sale 20 sets for each at piposland.com (Opened eyes and Half opened eyes Dark Alice : 20 set each)

Shipping date : Shipping will be processed by orderly (since your payment is finished) We'll notice the 1st, 2nd, 3rd shipping estimate date when the order is started.

1st shipping date : Oct. 19th (payment confirmed before Sep. 9th)

2nd shipping date : Oct. 26th. (payment confirmed before Sep. 11th)

3rd shipping date : early of Nov. (payment confirmed before Sep. 17th)
Selling starts on 9th Sep. (PM 10:00 Korean time)

Please pay within 4 days(incl. public holiday) after you order the Alice in nightmare dolls. If not, the order will be canceled automatically. (30% of deposit for layaway payment within 4 days)
★ Alice in Nightmare releasing Event ★
[ EVENT 1 ]

We'll give the Dark Baby Alice(PO7) to 2 customers by drawing.
We'll notice the drawing date with images soon.

[ EVENT 2 ]

Order from 9th Sep. to 23rd Sep. receives-
Gift : a doll prop
* It's painted and made by black colored resin.

[Caution]
A dark alice doesn't use jointed body(devided chest, stomach and pelvis) like previous PO11.

A opened eyes head and a half opened eyes have different make-up style.
[Notice]
The face-up and eyes in the images could be slightly different from the actual product.
-It may slightly look different due to screen resolution or characteristics of manual work.
-We do not take make-up change.
-We do not take claims about these reasons.

If it's possible, had better to avoid that exposure too much time to the sunlight.

The fabrics and accessories could change when it's sold out.

Fot the characteristics of colored resin, some marbling can appear. And it could have the gate lines. (By reason of this, exchange or refund is not possivle and please refer to.)

This doll could have the gate line.

The props and other including are not included which are not mentioned.

Payment method : paypal [pipi7814@naver.com]

After making payment for your order, cancellation won't be accepted.

Manufacturer by Pipos
Make-up by Johann
Outfits by Moi atelier
Eyes by IRIS