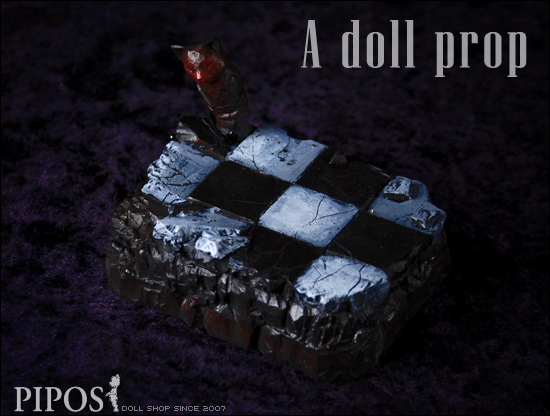 Product : Dark Rabbit Limited Edition

Type : PI Limited Edition

Including : Head & Body & A pair of rabbit hand, feet, tail (assembled)
Make Up artist Docshul
Moi atelier Limited Outfit set, PI boots(black color)
18mm IRIS Eyes
Doll box, cushion, certificate card


Skin color : Lavender
Here's the notice about selling plan for this time limited dolls which have extremely limited numbers.
Below dolls will be sold in draw for winners(pre-selling).

1. Limited Dolls (quantity limited)

- Mecy Limited Edition (2sets in worldwide)
- Roo Limited Edition (2sets in worldwide)

2. Alice in Nightmare re-releasing

- Alice limited edition (half open eyes) (2sets in worldwide)
- Alice limited edition (open eyes) (2sets in worldwide)
- Dark cheshire (4sets in worldwide)
- Dark rabbit (4sets in worldwide)


Pre-selling starts : Sep. 6th 2011 PM:10(Korean time)
Pre-selling ends : Sep. 7th 2011 PM:10(Korean timme)

Announcement : Sep. 10th 2011 (Korean time)

- We'll send the e-mail to the winners.
- Please pay the price within 3 days.
- The order will be canceled if you don't pay within 3 days.
- A layaway payment is not possible.

Pre-selling methods : by e-mail
Please send the e-mail with below form.

E-mail address : pipi7814@hotmail.com


[Pre-selling e-mail form]

Doll's name(type) that you want to buy :
Name :
Shipping address :
Contact number :
E-mail :


[Caution]
The tail and ear parts are assembled by tension cord.

Only head, teeth and ear parts are make-uped.

The skin color is not air-blushed. (resin color). Please do not sand.
[Notice]
The face-up in the images could be slightly different from the actual product.
-It may slightly look different due to screen resolution or characteristics of manual work.
-We do not take make-up change.
-We do not take claims about these reasons.

If it's possible, had better to avoid that exposure too much time to the sunlight.

The fabrics and accessories could change when it's sold out.

The props in the pictures are not included which are not mentioned.

Fot the characteristics of colored resin, some marbling can appear.(By reason of this, exchange or refund is not possivle and please refer to.)

Payment method : paypal [pipi7814@naver.com]

After making payment for your order, cancellation won't be accepted.

Manufacture by Pipos
Make-up by Docshul
Outfits by Moi atelier
Eyes by IRIS
【 Dark Rabbit Size 】
Height : 29cm (include ear length)
Girth of head : 17cm
Width of shoulers : 4.5cm
Length of arm : 8cm
Length of shoulder to wist : 5.8cm
Girth of neck : 5.2cm
Girth of chest : 10cm
Girth of waist : 10.8cm
Length of back : 4.8cm
Girth of hip : 12.8cm
Length of leg : 8cm
Length of waist to ankle : 8.2cm
Foot size : 3.3cm
Length of the tail : 2.2cm
Length of the ear : 9.5cm