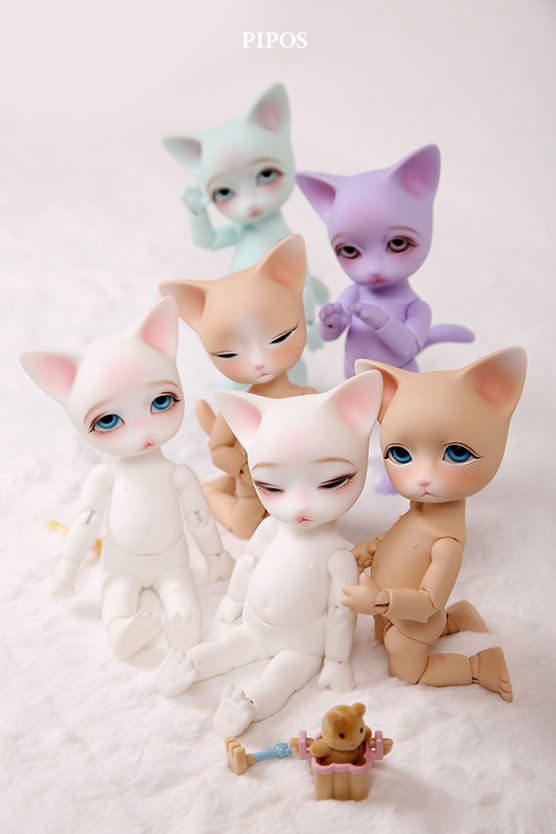 Product : Ringo-Mint

Type : Jr.PI edition

Including : Head & Body & A pair of hand and feet, tail(attached by magnetic)
16mm glass eyes (randomed colour)
Doll box, cushion, certification card

Option. Make-up or not

Option Tail(Mint color) A or Tail B or Tail A+B

Shipping date : 50 days after full-payment confirmed
[Caution]
A selling date could be shortened than we noticed if the orders over the quantities that we can make.

The tail part is assembled by magnetic.

Tail B part is little bit heavier than previous tail parts. It could be not fixed solidy if you attach the tail part directly on ringo bottom.
[Notice]
The face-up in the images could be slightly different from the actual product.
-It may slightly look different due to screen resolution or characteristics of manual work.
-We do not take make-up change.
-We do not take claims about these reasons.

If it's possible, had better to avoid that exposure too much time to the sunlight.

The props in the pictures are not included which are not mentioned.

Fot the characteristics of colored resin, some marbling can appear.(By reason of this, exchange or refund is not possivle and please refer to.)
Payment method : paypal [pipi7814@naver.com]
Layaway method : paypal [sogno40@naver.com]
After making payment for your order, cancellation won't be accepted.
Manufacturer by Pipos
【 Ringo Size 】
Height : 13.8cm (include ear length)
Width of shoulders : 3cm
Length of arm : 5cm
Length of shoulder to wist : 3.5cm
Girth of neck : 4.5cm
Girth of chest : 8cm
Girth of waist : 8.4cm
Length of back : 4cm
Girth of hip : 9cm
Length of leg : 5cm
Length of waist to ankle : 5.3cm
Foor size : 2cm
Length of Tail : 3.8cm(A-tail), 5.5cm(B-tail)
Girth of tail : 2.5cm(A-tail), 6.5cm(B-tail)